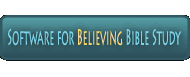 | | | |
| --- | --- | --- |
| A True Apostle | | |
JPAGE_CURRENT_OF_TOTAL
"[Galatians 3:1]  O foolish Galatians, who hath bewitched you, that ye should not obey the truth, before whose eyes Jesus Christ hath been evidently set forth, crucified among you?"
"[Galatians 5:6]  For in Jesus Christ neither circumcision availeth any thing, nor uncircumcision; but faith which worketh by love."
"[Galatians 5:26]  Let us not be desirous of vain glory, provoking one another, envying one another."
"[Galatians 6:3-4]  For if a man think himself to be something, when he is nothing, he deceiveth himself. But let every man prove his own work, and then shall he have rejoicing in himself alone, and not in another.
"[Galatians 6:7]  Be not deceived; God is not mocked: for whatsoever a man soweth, that shall he also reap.
[Luke 4:14-19]  And Jesus returned in the power of the Spirit into Galilee: and there went out a fame of him through all the region round about. And he taught in their synagogues, being glorified of all. And he came to Nazareth, where he had been brought up: and, as his custom was, he went into the synagogue on the sabbath day, and stood up for to read. And there was delivered unto him the book of the prophet Esaias [Isaiah]. And when he had opened the book, he found the place where it was written [penned of the Holy Ghost],
*** The Spirit of the Lord is upon me, because he hath anointed me to preach the gospel to the poor; he hath sent me to heal the brokenhearted, to preach deliverance to the captives, and recovering of sight to the blind, to set at liberty them that are bruised, To preach the acceptable year of the Lord. ***   
Are you Christ's Apostle, a son of God, following Christ being lead of His Spirit to lose your life in this life or Are you man's Apostle seeking reputation and praise of men and woman, the devils nature, to keep your life in this life?  Jesus asks, "Do you love "Me"! ? Do you love…Me! ? Do you Love……Me! ?
"Jesus declares always, "ITS JUST YOU AND ME, TO ABIDE IN ME FOR I AM THE VINE AND WITHOUT ME YOU CAN DO NOTHING. I TAKE CARE OF MY SHEEP. You come follow me, walk with me, you and I alone. Love Me for I have Loved you to give you life in Me."
                         **************************************