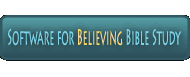 | | | |
| --- | --- | --- |
| Children hear | | |
JPAGE_CURRENT_OF_TOTAL
[John 6:63-64]  It is the spirit that quickeneth; the flesh profiteth nothing: the words that I speak unto you, they are spirit, and they are life. But there are some of you that believe not. For Jesus knew from the beginning [of the speaking situation He was in at that time not from the beginning of the world for God is no respecter of persons.] who they were that believed not, and who should betray him.
[John 10:25-27]  Jesus answered them, I told you, and ye believed not: the works that I do in my Father's name, they bear witness of me. But ye believe not, because ye are not of my sheep, as I said unto you. "My sheep hear my voice, and I know them, and they follow me:"  So where would the term "Iron sharpeneth Iron" fit in here?

"[John 10:27]  My sheep hear my voice, and I know them, and they follow me:".  They are not contentious nor argumentative but humble having their ears open to hear Christ's truth from anywhere it comes to walk in it.  Anyone that is contrary to this is not a humbled person nor seeking to glorify God by his or her life. They are trying to pretend and hide from God, if that is possible, which it ain't, like an Ostrich hiding only its head in the sand thinking no one sees it.
Religious tradition and denying the truth, is to excuse one having to be placed in a position to see oneself, by the Holy Ghost and the word of God, to adhere to the life of Christ in faith to live holy.  It gives room for excuses and self justification to turn from the truth through arguments, the proving of ones point. It does not provoke unto love for Christ in obedience to the Holy Spirit in faith, but obedience to religious law minded traditions, imaginations and rote Theology to keep ones life in this life.

The crucified ones do not do fight with truth and light but welcome it knowing they will be closer to Christ and more like Him. "True" saints are not rebellious against truth [light] to the heart. They will stand on correction by the word of God, take it and change. "[Matthew 5:6]  Blessed are they which do hunger and thirst after righteousness: for they shall be filled." True Saints have the heart of David "to chase after the truth in the inner man to conform to Christ" not religious traditions or self righteous rules and laws that war against faith in Christ making one unable to commune with Him through the Holy Ghost, the Spirit of Christ and His truth of His word. Jesus said what belongs to the Father belongs to Me and what is Mine [meaning you in Him as well as the gift of the Holy Ghost to believers from God the Father] is God's. So the Holy Spirit is the Spirit of Christ as well as the Spirit of the Lord.
[Proverbs 27:18]  Whoso keepeth the fig tree shall eat the fruit thereof: "so he that waiteth on his master shall be honoured."
Paul did not go around trying to prove some kind of theological point of view in an argumentative or contentious fashion but was preaching and teaching the truth of God, the gospel of Jesus Christ and the now Kingdom of God, having the life of Christ and dead to sin, for people to repent and follow. He wanted people to live in Christ and not die in their sin and rebellion. As Jesus was so was Paul, which Paul wanted to know Him more and the power of His resurrection. This isn't religious Theology but living in Christ and dead to sin, to know the power of His resurrection to make us alive in Him and forever to be with Him having eternal life now holy, righteous, and perfect in Jesus Christ.
[Romans 10:17]  So then faith [in Jesus Christ and the kingdom of God] cometh by hearing, and hearing [keeping, walking, doing, joy in the Lord] by the word of God.
[Hebrews 1:2-3]  Hath in these last days spoken unto us by his Son, whom he hath appointed heir of all things, by whom also he made the worlds; Who being the brightness of his glory, and the express image of his person, and upholding all things by the word of his power, when he had by himself purged our sins, sat down on the right hand of the Majesty on high;
AMEN