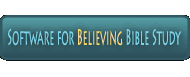 Always Saved Being in Sin?
True Christians do not live in sin learning to hate sin. Saved means "out of Sin" sinning no more having a clean conscience before God, obeying His word as the Holy Ghost
shows you the will of God for you. Holiness Righteousness and uprightness honors God.