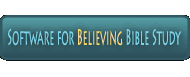 | | | |
| --- | --- | --- |
| Prophets Apology and Warning | | |
JPAGE_CURRENT_OF_TOTAL

Even the 'spiritual' moments in this conference often had strong touches of "Charis-mania" excess about them. And this was not the 'harmless, silly' kind of excess, either. It was at a level where I believe demonic spirits of deception were clearly at work. By the last session the audience was so hyped that they threw away all inhibition and leapt into the 'pagan' dancing themselves with wild abandon. And one of the main prophets even got up and announced that there were angels in the room going around "blowing on peoples' fingers" if only they would lift them up in the air. That particular part sounds silly, but actually the whole thing by this stage had become awful beyond words. Virtually every day I came home utterly grieved and depressed. I had come to this conference with great expectancy and hope, thinking that the return of Bob Jones may bring a renewal of all that was originally good about this movement. I literally came as a 'friend' and they turned me into an enemy in the space of three days.


Below are the SPECIFIC THINGS that God told me He has against this movement as a whole:
-The giving and receiving of "ear-tickling" words.
-The giving and receiving of money in expectation of prophecy.
-False words and false teaching.
-The lack of a true Repentance message.
-The spiritual 'blindness' that allows familiar spirits and spirits of divination to flourish.
-The failure of this movement to judge itself, meaning that God must judge it.
-The idolizing of well-known prophets - placing them on a pedestal.
-And so on....

WHAT NOW FOR US?
Well, obviously, with great sadness we must now totally cut ourselves off from today's Prophetic Movement. Any related links and articles will be removed from our web-site immediately.


As you know, for some time now I have spoken of the 'John-the- Baptist' type ministries that must arise to preach REPENTANCE in the Western nations. -Preachers of righteousness with a piercing word, like the Finneys, the Wesleys and the Whitefields of old. Such ministries are essential for true Revival to come. I now see that this new move must completely "separate itself" from the influence of the existing Prophetic movement. We need a completely 'NEW' Prophetic, and to keep it from being tainted by the sickness that has infected the old, there must be a complete cutting-off and a "leaving behind".
I urge all of you to take this before the Lord for yourself. We live in very dangerous times, and I believe the old Prophetic literally stands under the judgement of God.


For our ministry in Kansas City, what this means is that we have to go right back to the original calling and mandate over this city, and build on that. We cannot build on the movement that came after. The 21 days of prayer and fasting, the comet that came, and the comission to preach Repentance to the Lukewarm church - these were all foundational elements. So too were the four standards of "Holiness of heart, Unwavering faith, Day and Night prayer, and Extravagant Giving to the Poor". The original Prophetic move here seemed to be relatively pure for only a few years - and then quickly became a quagmire. So we have to stick to only the original foundations - and build on that. Our Sunday night meetings in Kansas City will certainly continue.


There were prophecies last year that a 'new' prophetic - a "second phase" was about to begin. I do believe this. But what we need to make sure of is that it does not become ensnared in the garbage of this previous movement. It must be totally NEW.
I would ask that you forward this announcement to as many Lists as you can, and to your Christian friends. We want it as widely known as possible that we have cut off all relations with the current Prophetic movement - and why we did it.
As you can tell, it has been a terribly sad and devastating weekend for myself and my family. We would truly appreciate your prayers at this time, my friends.
God bless you all.
__________________________
I guess you will not be surprised to hear that I was flooded with 600 emails within 24 hours of my announcement that I was leaving the Prophetic movement. Many of them seemed to be highly supportive of the stand I had taken. (-A lot of people have seen alarming things in this movement). But I'm sure I will receive a lot of flak also.
For many years, even when I was truly disturbed by something I usually avoided "naming names" as much as possible. I do not approve of the 'Heresy Hunters' who seem to take such delight in maligning Spirit-filled ministries across the Internet. There is no delight in such things for me. Only grief and sadness that the name of Jesus is once again being brought down into the mud. We live in very sad times in the church today, don't we?
After my previous article, many people asked me again to "name names" and announce clearly who the leaders were at this conference - even though that info was already at the top of my first email. For this one time, I am actually going to accede to their request - because we need to clear the air about these leaders and also a number of others as well. But I have to tell you, I have been totally heart-sick at having to talk about all this.
The speakers at this KC 'Whitedove' Conference were Bob Jones, Paul Keith Davis, Bobby Conner, John Paul Jackson, Shawn Bolz - plus Jim Goll and one or two others. Sadly, I have to say that I have rarely felt so grieved or devastated as when I witnessed the carryings-on at this event. If you get the 'Elijah' List (-the main Prophetic email List) you will recognize most of the names above as being amongst the top "movers and shakers" of the whole movement.


A number of people asked me about Rick Joyner and Morningstar Ministries. Where do they fit into all this? Well, seemingly Rick has always managed to keep himself at a slight distance from the worst excesses and controversies of this movement. (-Except for when he joined the Knights of Malta - an ancient Catholic Order. -By the way, that is probably what led to the fad of using swords to 'knight' people that swept through this movement a few years ago). I have read some of Joyner's books and enjoy some of the things he says, but frankly, just because he has kept himself at a slight distance does not absolve him from the mess that the Prophetic is in today. The fact is, Mr Joyner is very close friends with almost all of the main leaders at this recent conference. He regularly ministers alongside them - and knows them very well. As a 'father' in the movement, if he had brought correction it would have been heeded, but he has clearly failed to do so. Thus, he has to be held accountable for the state of things as much as anyone else. And it would not surprise me if similar deception is finding it's way into Morningstar conferences. (-A number of the same people are involved). Sadly then, I have had to remove any articles or links to Rick Joyner from my web-site - along with all the others.