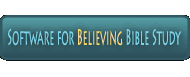 Self Esteem
| | | |
| --- | --- | --- |
| Self Esteeem? | | |
JPAGE_CURRENT_OF_TOTAL

1 Corinthians 2:2  For I determined not to know any thing among you, save Jesus Christ, and him crucified. [persons are dead to the old man and living in Christ and His word]
1 Corinthians 2:5  That your faith should not stand in the wisdom of men, but in the power of God. [Christ and His word]
1 Corinthians 3:18  Let no man deceive himself. If any man among you seemeth to be wise in this world, let him become a fool [humbled, repentant], that he may be wise [living in Christ and His word, dead to the quest of self esteem-sin].
                                           "The just shall live by faith."
Philemon 1:6  That the communication of thy faith may become effectual by the acknowledging of every good thing which is in you in Christ Jesus. [notice its not self esteem but its what Christ is and has done for us out of love to be in Holiness as we humbly walk in spirit and in truth. This is Godly esteeming of each and every believer.]
1 Thessalonians 5:19  Quench not the Spirit. [The Holy Ghost in you by sin of self esteem and pride conforming to men and systems rather than faith following Christ.] 
One of the results of "harlot religion and the world's wisdom is the word "conform".
We are taught to conform from youth. Some are stronger and more courageous to stand for what they believe and are taught breaking that "bond" known as "fleshly conformity". As Christians we are to conform to the image of Christ obeying His word, and Him, and do things in decency and in order but as He leads not what men and women tell us to do or dictate to us. We need to be of good courage and stand on the word God and be lead of His spirit on what we are honestly and sincerely convinced of what He has show me, or you, personally until He refines it.
We are going to be accountable to God for what we believe and act on not to men and women no matter who they are. We are to be meek [teachable] always and humbly walking with our Father in Heaven to seek His truth to know Him and Christ and to be a servant to others, more mindful of them than ourselves. As we study and do His word, out of an honest and sincere heart to follow Christ, we have a measuring guide to keep us in love and in order as we wait patiently on the Lord. We are to obey the Lord, giving up our life [fear], and not men when it comes to our following Him, at all costs. If we make a mistake out of sincerity God can and will correct us guiding us to the truth. We are never to be prideful and arrogant thinking we have all the truth for all that we have gained in Christ is of God and His mercy to bear witness of Christ in us to the world. It isn't ours for personal gain and pride, which is sin. Israel wanted a king over them to be like other nations and not be solely lead of God. Is that the way it is for you the believer today quenching the Holy Ghost in you being in Christ and always afraid to stand on what God and His truth has shown you, having a fear of man, looking at men and women-conformity? Are you afraid you are wrong?
If you are honest and sincere in stepping out in faith to glorify God He will show you and make it right at the time. He is your Father! Leader! Act on the light of God that has been given you and what He is calling you to do and say! Don't hesitate! Glorify God and His Christ by obedience and love. The only absolute conformity is spiritual to be like Christ obeying His word, seeking His truth, and not fleshly to be ruled and lorded over of men and women. Sometimes even true Christian men and women have a tendency to lord it over others in truth or deed which shouldn't be. We need to be careful not to lord it over others but just speak what God has given to me and allowed me to see and walk in of His truth and allow others to walk as God has shown them. Christ is the Lord. Conformity can be sin when allowed to usurp the truth of God and the leading of the Holy Ghost.
Ephesians 4:30  And grieve not the holy Spirit of God, whereby ye are sealed unto the day of redemption.
James 5:9  Grudge not one against another, brethren, lest ye be condemned: behold, the judge standeth before the door.