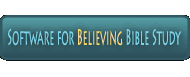 Sin Brochure.  USE BACK BUTTON ON BROWSER TO RETURN TO THIS SITE AFTER OPENING PDF!  Pdf can be opened and then saved to your desktop for easy filing and printing as a brochure front and back. Feel free to use it and pass it on.

How do you know what sin is and that you aren't committing sin at this moment or have already?
Sinning is in thoughts, words, and deeds. Then there can be no faith in Christ and His words.
There is a spiritual gulf that cannot be crossed over to live in light and darkness at the same time.

Luke 11:34  The light of the body is the eye: therefore when thine eye is single, thy whole body also is full of light; but when thine eye is evil, thy body also is full of darkness.

          one or the other!  you choose!  live in darkness you die in darkness. Live in Christ and His words as He says it you die in light.

         "ONE SIN separates  the sinner, being one who loves to sin, and or the saint who willfully
committs a sin and is not repentive of it becoming a sinner." yes falling from grace to be lost if
unrepentive.