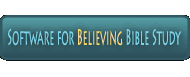 Suicide Brochure
.  
USE BACK BUTTON ON BROWSER TO RETURN TO THIS SITE AFTER OPENING PDF !  Pdf can be opened and then saved to your desktop for easy filing and printing as a brochure front and back. Feel free to use it and pass it on.

Now this is a touchy subject but God has the answer, as always, [John 6.29] "This the work of God is to believe on the one whom He has sent" Jesus Christ the Lord ! You think its triffle, eh? The Harlot religious anti-christ faithless money loving system, called by the misrepresented term "church," has let you believe that suicide is okay, or excuses it making it sound like God okays the idea, when it stinks in His nostrils of unbelief and lies. They spiritually aid in the death of those that take that course by not speaking and teaching Christ and His word as He says it and what God will accomplish in ones life in Christ. The blind cannot know the absolute goodness of Christ until they wake up and seek God for healing of spirit and body. Do you know what He has done for us and gave up His life so we can live and not shoot ourselves or some other crude method, like calling on the"lying spirit-Doctor Death"? 

Have you sought to find out? Suicide is the exclamation of a person's life of not following Christ nor having anything to do with Him. The height of Seflishness, disobedience, unbelief, sinnfulness  hating God, and "pride" being wise in ones own eyes. All you have to do is call on God in humbleness and sincere repentance and He will forgive you  believing in Christ making Him lord over your life abandoning your selfishness and greed, that has given His life for you to be healed, spiritually and phyiscally to have a relationship with God. You become His and He will lead you and take of you as you obey and believe in Christ in honesty of heart humbled before Him. Suicide is not God's plan for us but Christ and his simple word is. Its the word of God not the word of the churches. Christ is the living WORD!
He is "The way, The Truth, and The Life!" There is no other way truth or life.
There is no salvation in any other under heaven. Jesus Christ is the saviour and only one.